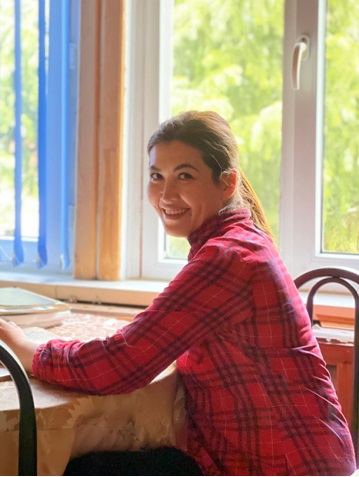 Sandugash Usenovna Ranova
head of the laboratory of natural hazards, Laboratory of natural hazards
Email: ranova@cargc.org
+7 701 228 27 28, +7 701 228 27 28
Directions of research activity:
study of the laws of distribution and conditions for the formation of hazardous exogenous processes (avalanches, mudflows, landslides, rockfalls) in the mountainous regions of Kazakhstan;

development of assessment methods and creation of maps of natural hazards and natural risks
Region of works: mountain regions of Kazakhstan
Principle publications
Медеу А.Р., Благовещенский В.П., Жданов В.В., Ранова С.У. Крупные сейсмогенные обвалы и оползни в горных районах Юго-Восточного Казахстана. // Известия национальной академии наук Республики Казахстан, серия геологии и технических наук. 2017. - № 6. С. 26-29.
Медеу А.Р., Благовещенский В.П., Жданов В.В., Ранова С.У. Оценка и картографирование оползневого риска на территории города Алматы // Известия национальной академии наук Республики Казахстан, серия геологии и технических наук. 2017. - № 6. – С. 12-17.
Медеу А.Р., Благовещенский В.П., Степанов Б.С., Ранова С.У., Камалбекова А.Н., Султанбекова Б.М. Мониторинг селевой опасности в Иле Алатау // Вопросы географии и геоэкологии. – 2018. – № 2. – С. 52–60.

КБЦ

–

0,116.

Медеу А.Р., Благовещенский В.П., Гуляева Т.С., Жданов В.В., Киренская Т.Л., Ранова С.У. Сели в Иле Алатау за последние 117 лет. // Вопросы географии и геоэкологии. – 2018. – № 3. – С. 71–78.

КБЦ

–

0,116.

Медеу А.Р., Благовещенский В.П., Гуляева Т.С., Жданов В.В., Киренская Т.Л., Ранова С.У., Степанов Б.С., Аскарова М.А. Концепция проектируемого мониторинга селевой опасности в Иле Алатау. // Геориск. – 2018. – № 3. – С. 16–22. Россия. РИНЦ.
Медеу А.Р., Благовещенский В.П., Гуляева Т.С., Ранова С.У. Селевая активность в Заилийском Алатау в ХХ – начале ХХI веков // География и природные ресурсы. – 2019. – № 3. – С. 173–179.
Monograph
Медеу А.Р., Благовещенский В.П., Гуляева Т.С., Жданов В.В., Ранова С.У. Опасность сейсмообусловленных экзогенных процессов в горных районах Казахстана. - Алматы, 2017. - 84 с. ISBN 978-601-7150-89-1